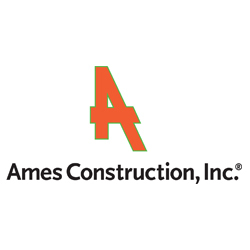 Class A CDL Side Dump Driver w/ Tanker Endorsement
Denver, CO
Ames Construction is a full-service, heavy civil and industrial general contractor serving customers throughout North America. We offer career and employment opportunities with competitive wages and benefits.

We offer competitive pay starting at $28/hr, as well as incentive packages!
Pay is based on experience!
• Must have a Class A CDL.
• Must have a minimum of 2 years operating experience.
• Must have Class A CDL License and clean driving record.
• Must have experience with side dump tanker truck driving.

• Ability to operate side dump trucks.
• Must be self-motivated.
• Must meet all safety requirements & adhere to applicable safety policies.
• Must have acceptable level of correctable vision for near, distance, color, peripheral, and depth perception.
• Must have hearing that is sufficient for being aware of back-up alarms, hearing equipment, and for normal conversations.
• Must wear personal protective equipment, including hard hat, safety glasses, safety vest, steel toe boots, seat belt, gloves, etc.

• Must be able to operate proficiently, meeting both production and safety requirements.

Apply today!

We are an Equal Opportunity Employer.

13478